Appearances
Podcasts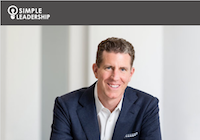 I had the pleasure to be a guest on Simple Leadership by Christian McCarrick. Find the podcast here. The interview was recorded in December 2016. Because of time zone differences, it was late at night for me, but it was still a great conversation especially on the transition from engineer to manager and how to cope with it best.
Talks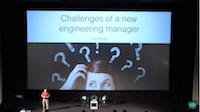 "Challenges of a New Engineering Manager": My talk at the code.talks 2017 conference. I talk about the engineer-to-manager transition and three very specific challenges that are typical for this phase.
Interviews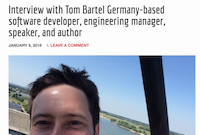 Vidal Graupera of managersclub.com invited me to take this interview, in which we talk about the engineer-to-manager transition, hiring, and success habits.
Good interview questions really make you think about yourself, and Vidal clearly managed that: I did not only tell about myself, I also learned one or two new things about myself.